SERVICES
For all but the three summer months, the services are at 9.15am and 11am on a Sunday. During the months of June, July and August, there is one service at 10am. Other services are held at specific times and details are published in the printed notices.
Holy Communion is celebrated 6 times a year and the Sacrament of Baptism on a monthly basis.
The Minister is available to discuss Baptisms and weddings, along with any other topic or problem, at the vestry hour on a Wednesday evening between 6.30 and 7.30pm.
CONGREGATION
There is an active congregation with organisations for a wide range of interests. We have a crèche, Sunday school, Bible class and youth drama group on a Sunday. During the week the Boys Brigade meets in three different age groups, there are keep fit and line dancing classes, two guilds for women, a Darby and Joan club and a Trefoil Guild. The Church choir also meets during the week to prepare for Sunday worship. The Abbey has a lively and fruitful connection with the First Presbyterian Church of Marietta, Georgia. This has been fostered through regular exchanges and visits.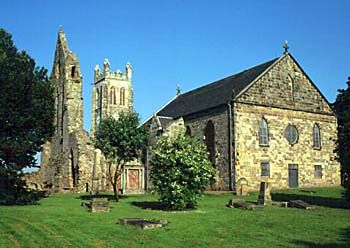 Photo courtesy Ayrshire & Arran Tourist Board